Articulations
• L'Harpagophytum favorise la souplesse des articulations
• La Boswellia favorise la mobilité
• La Glucosamine et la Chondroïtine sont des constituants naturels des ligaments et du cartilage
• Formule à base d'ingrédients naturels
Existe en cure de 1 mois ou 3 mois :
Regular price

Sale price

$30.00
Bienfaits
Comment l'utiliser
Composition détaillée

INGRÉDIENTS POUR 2 GÉLULES D'ORIGINE VÉGÉTALE* :

Glucosamine Sulfate : 800 mg
- extrait marin pur à 98 %
Chondroïtine Sulfate : 500 mg
- extrait marin pur à 90 %
Harpagophytum (Harpagophytum procumbens D.C) : 360 mg
- extrait de racine latérale titré à 10 % Harpagosides
Boswellia (Boswellia serrata Roxb.) : 100 mg
- extrait de résine titré à 65 % en Ac.Boswellique
Ortie (Urtica dioica) : 100 mg
Zinc Gluconate : 71 mg
- 10 mg de Zn soit 100 % AR
Acide Hyaluronique : 20 mg
Manganèse Sulfate : 8,1 mg
- 2,6 mg de Mn soit 130 % AR*
Cuivre Sulfate : 5,9 mg
- 2,6 mg de Mn soit 130 % AR*

* HPMC
Partager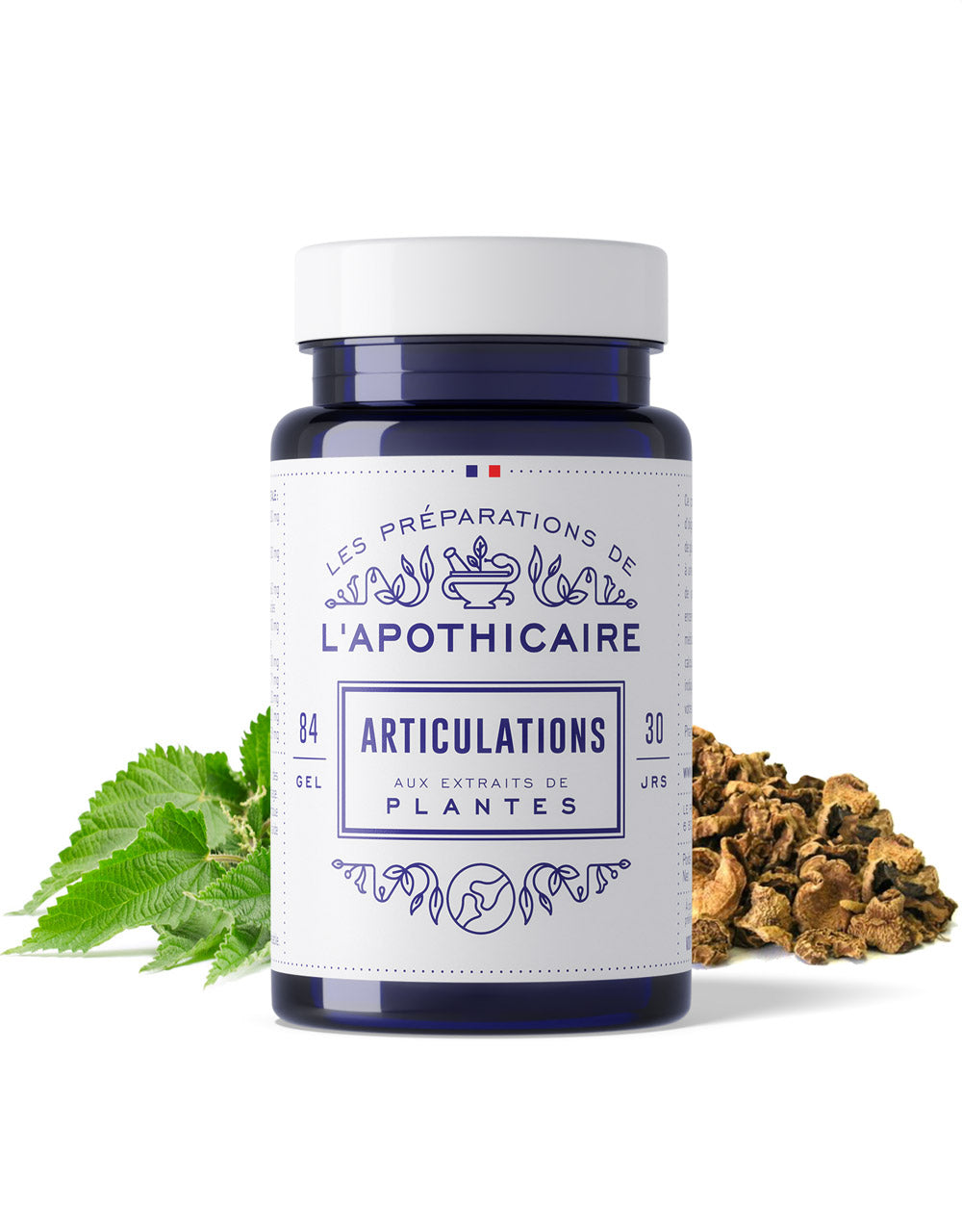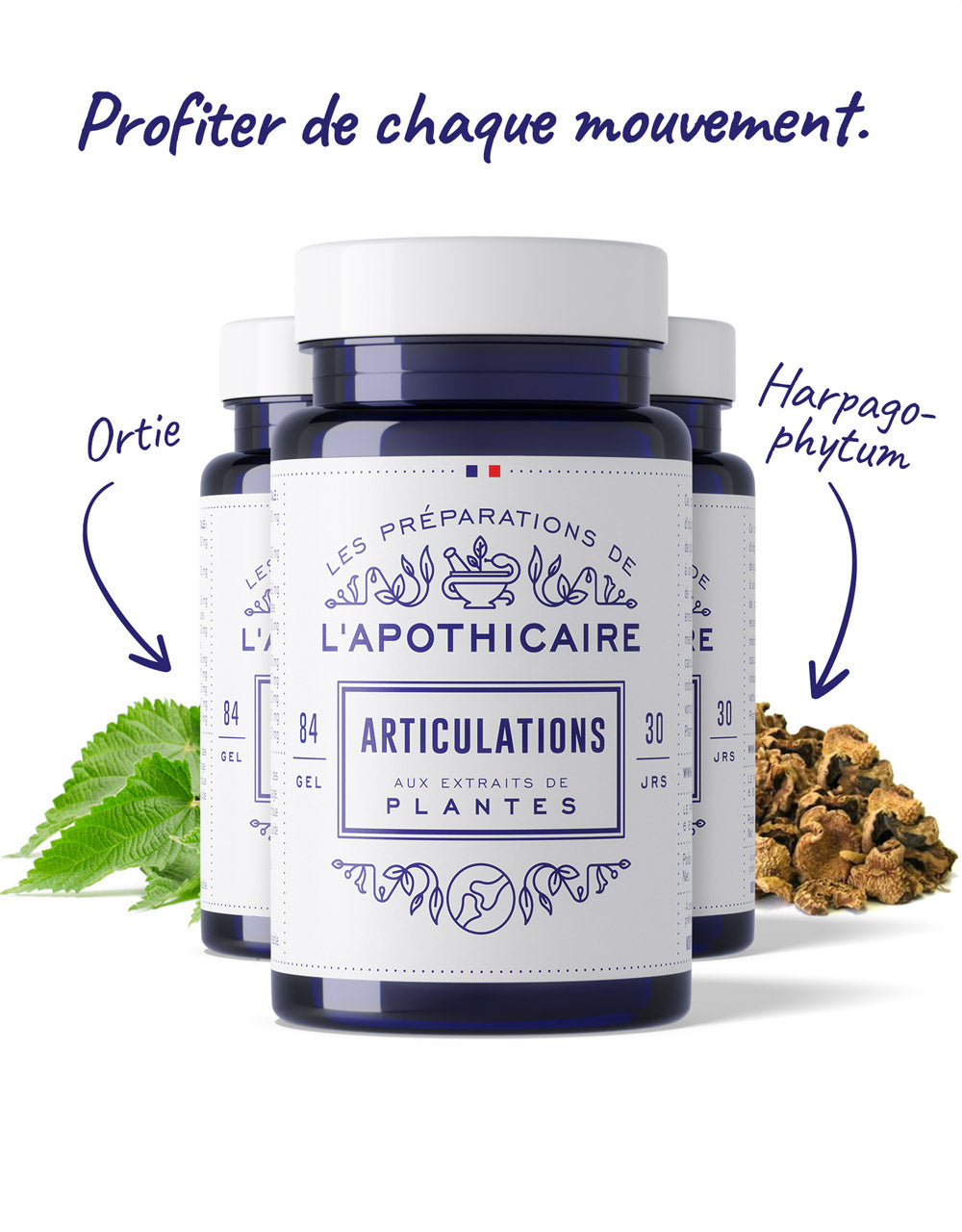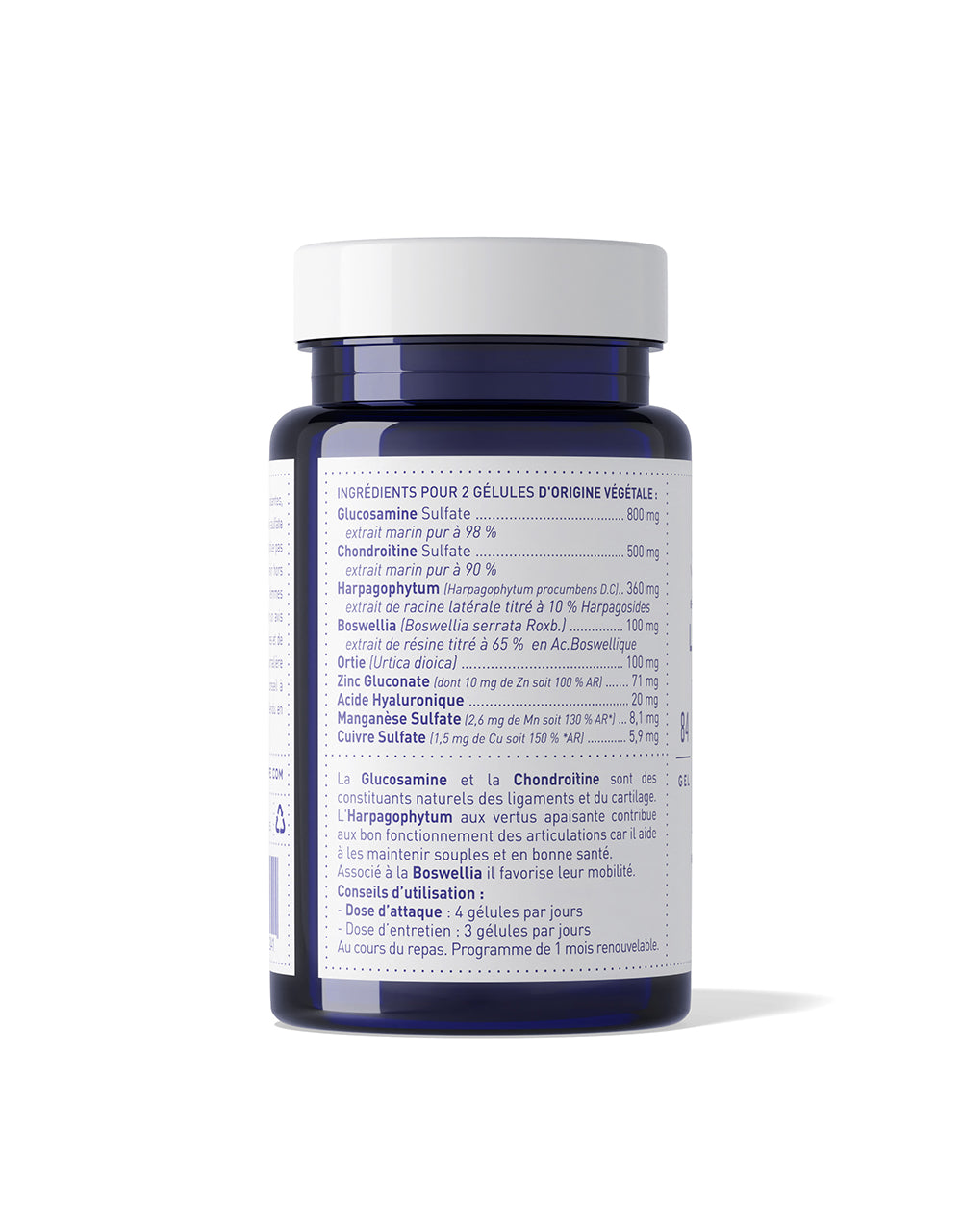 Gélules végétales 100% vegan

0% Excipient 100% Plantes

Formulé par des pharmaciens

Flacon recyclé recyclable
Nos Ingrédients Naturels & Efficaces
Des plantes utilisées depuis toujours dont les effets sont maintenant validés par des techniques récentes : L'expertise moderne au service du savoir faire traditionnel.
Glucosamine - Chondroïtine
Bonne qualité de produit rien à dire

Arthur P.

Kim Q.

Thanks a lot for the delivery it was really important 4 me to receive it really quickly

Fred Y.

Après une ostéodensitométrie qui a revelé une arthrose avancée j'ai pris ce médicament et je dois reconnaître qu'il me fait beaucoup de bien. De plus je l'ai associé au curcuma en période de grosse poussées inflammatoire et cela me soulage. Merci.

Sylvianne F.
FAQ
Peut-on l'associer avec du Curcuma ?

Oui ceux sont deux formules tout à fait complémentaires. La formule ARTICULATIONS est prévue pour les phases de gênes chroniques tandis que le CURCUMA ASSIMILABLE cible plutôt les phases de gênes aiguës. Le CURCUMA ASSIMILABLE est donc parfaitement indiqué en phase d'attaque tandis que la formule ARTICULATIONS est adaptée en relais sur le long terme.
Peut-on en prendre avec des médicaments contre la douleur ?

Il n'y a pas de contre-indications à la prise concomitante de traitements antalgiques, nous vous recommandons néanmoins un avis médical.
Pour compléter votre cure